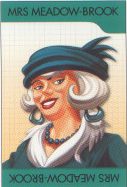 Jane Meadowbrook
Cluedo character
First appearance
Clue FX (2003)
Last appearance
Clue Mysteries (2005)
Information
Species
Human
Gender
Female
Age
51
Date of birth
January 2
Occupation
Caretaker
Title
Nurse
Spouse(s)
Mr. Meadowbrook
Religion
Jewish
Nationality
Jamaican
Mrs. Jane Meadowbrook is the wife of the deceased Mr. Meadow-Brook whose murder investigation was headed by Miss Peach with the aid of Lady Lavender, Prince Azure, and Lord Grey. She is situated on a turquoise base, correlating with her Namesake (Meadow/Green, Brook(e)/Blue). She is the local gossip according to Clue canon, and she and Mr. Meadow-Brook were strongly implied to have severe marital problems.

Ad blocker interference detected!
Wikia is a free-to-use site that makes money from advertising. We have a modified experience for viewers using ad blockers

Wikia is not accessible if you've made further modifications. Remove the custom ad blocker rule(s) and the page will load as expected.