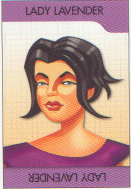 Lu Sian Lavender
Cluedo character
First appearance
Clue FX (2003)
Last appearance
Clue Mysteries (2005)
Information
Species
Human
Gender
Female
Age
30-40
Date of birth
October 21
Occupation
Botanist
Title
Lady
Religion
Buddhism
Nationality
Taiwanese
A herbalist who possibly poisoned her husband, Lord Lawrence Lavender, Lady Lavender is an honorable lady who tends to be a slight bit of a trouble-maker at times. Her Asian heritage is reminiscent of the earlier Miss Scarlet's (Circa. 1972–1992). In Clue FX, she was an innocent investigator of the death of Mr. Meadow-Brook. Her herbal business makes her successful, wealthy, and entertained, and also quite spoiled, but it is also stated that she wants even more and concocts plants to spice up her life. She is appropriately represented by a lavender token. Interestingly, in the Clue Junior book series, there is a stock character named Mrs. Lavender. She is given the name Su Sian.
Ad blocker interference detected!
Wikia is a free-to-use site that makes money from advertising. We have a modified experience for viewers using ad blockers

Wikia is not accessible if you've made further modifications. Remove the custom ad blocker rule(s) and the page will load as expected.